A couple of friends are doing this challenge on Facebook, and well, I've decided that I'm going to give it a shot, but only on my blog. No particular reason other than I want to try to keep updating this thing, and I can fully explain my answers here. SO ... without further Ado, ......
The 31 Day picture challenge ..... Day One.
A picture of yourself with 10 facts.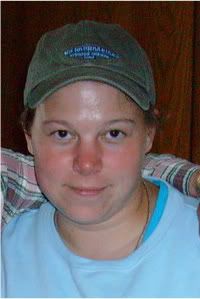 1)I am a middle child
2)born on my daddy's 30th birthday
3)I am overly artistic in most things I do - not intentionally, and not braggin .... just fact.
4)I have wanted to have a horse ranch since 1st grade, and I still have my creative writing paper from 1st grade to prove it.
5)I am a recovering catholic
6)Never have done drugs, or much alcohol for that matter.
7)I am a super sarcastic country girl
8)I have majored in college in: Theatre (tech), Art, Music, Art, Art Education. In that order.
9)I LOVE to hunt bears ... almost as much as I LOVE horseback riding
10)My family rules my heart, and I drive them crazy for it.
OK. So, the only explanation I need here, is that the above picture is a few years old. I was lookin' pretty well totally crappy since I was just out of a 3 hour drive from Marquette to Escanaba to see my uncle (who is in the uncropped version of this picture). I needed a shower & a hair brush, and clearly, a better looking sweatshirt. What can I say? We were headed home from a bear hunt.